Being an affiliate company of Qinhuangdao Aoge Group Co.,Ltd. Qinhuangdao Aoge Glass Co .,Ltd .is a large key enterprise which focus on producing fine float glass , online coated glass and glass deep-processing products.
According the tenet of the group company as Operation with integrity, Development with Quality ,Qinhuangdao Aoge Glass Co ,Ltd sets good figure to outside, meanwhile strictly emphasizes on inside management. The Company would like to offer the best products to its customers through strictly control on key steps like purchase of raw materials ,adjustment of technological parameters, production site management, product quality inspection and end products leaving the factory etc.
Nowadays, annual out put of Aoge Glass have exceeded 7 million weight cases. Meanwhile the quality has also exceeded the standard of our country. The proportion of the auto class is about 80% and the ratio of sale is more than 98%.The products are used in every field of deep processing, which has the features of lower content of iron, high visible light transparence and easy cutting. Since the first phase of the company comes into being a hot sales situation at the capital Economic Circle, Zhujiang Triangle Economic Circle and other area, and our products are widely used in various deep-processing industries. Accumulated sales income till now meets 300million USDS. Currently, the company is carrying out production according to orders , while with unique quality ,Aoge Glass is winning more and more favor of its customers who are dealing with deep-processing industries.
The 1st phase project was put into production in November,2002,whose design scale is on-line coated production line with a capacity of 450t/d. And it can produce the glass of thickness of 3-19mm.Now, the glass of the thickness of 15mm can be produced normally. The 2nd phase project was also put into production in April,2006,whose design scale is special glass production line with a capacity of 700t/d. Its main products are 3-25mm super thick glass. And the maximum length of sheet is 12m.Now,the glass of the thickness of 19mm can also be produced normally. In order to make sure the quality of the products, our company introduced raw material mixing equipment, the body of annealing lehr and the equipment of on-line inspection and cold end including cutting, snapping, transporting and stacking.
Nowadays, according to the plan of Aoge Group, Aoge Glass is carrying out each object intently. Finally, our company may satisfy its customers with more perfect product system at the moment.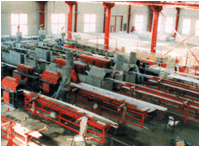 Aoge Plastic Profile Co.,Ltd is located in Qinhuangdao Economic And Technological Developing Zone which is a beautiful summer resort. It is a subsidiary of Aoge Group Co.,Ltd. It covers and area of 90,000m2 with a total investment of 280 million RMB including a complete of equipment with models of 1990s introduced from Germany and Austria. The designed capacity is to produce annually 36,000 tons of profiles , assemble 300000m2 of doors and windows.
The main profiles made in the factory include Serials of 58 and 60 for doors and window of flat open and pushing-pulling serials of 62,80(A.B.C),85,88(A.B) and 98 for doors and windows. They are applicable to process doors and windows of different forms and different class, and may widely be adopted into various kinds of buildings for office and residence.
Thanks to the up-to –date technology and equipment plus strictly scientific management, the factory has got its products reach the first class in quality and pass ISO9002 International Quality System and UKAS of the BRITISH Royal Quality Management System. From 1995 on, the products of the factory have been named by the Ministry of Construction as the major nationally promoted ones for new tech and saving energy; the recommended products for nationally residential buildings of middle-class living; the recommended new products of Hebei province; the famous brand of Hebei province; the products without compulsory inspection to quality of Hebei province; the satisfactory products of Hebei province; the recommended products by the Ministry of Construction and the first group of the marketing permission for plastic profiles, meanwhile the factory has been destined as a production base with an AAA class in Hebei province and won the champion unit in the activities of the national quality trip for several times.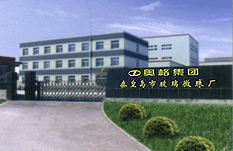 Qinhuangdao Glass Microsphere Factory(QGMF) located in Qinhuangdao Economic and Technological Developing Zone, which is a sub company of Qinhuangdao Aoge Group Co.,Ltd . At present, QGMF is the only specialty company producing hollow glass microsphere in china. It introduced the whole production line and technology from overseas. QGMF can manufacture 1500 tons of hollow glass beads and 3000 tons of solid glass beads per year. All these products are of good reputation in the market.
With the super quality , perfect service and never –changing good credit, QGMF is sure to win the trust of broad customers.